COSMETIC TATTOOING SPECIALIST IN INDIANAPOLIS
Permanent makeup consists of inserting particles of pigment into the dermal layer of skin via cosmetic tattoo machine; often known as micropigmentation. This style of tattooing works to enhance facial features as well as correct pigmentation & scarring. 
Cosmetically Tattooed Eyeliner darkens lash line, giving appearance of thicker, longer lashes & outlines the eye to enhance size & shape! The style is chosen based on your personal preference combined with facial attributes. Eyeliner can range from a natural look to full glam, cat eye style!
Machine tattooing lasts longer than manual Microblading, transforming your ink from semi-permanent to permanent! We offer manual microblading, as well as cosmetic brow tattooing for hair strokes (resembling bladed brows), ombré brows, glam brows, and tinted brows!
Lip Blushing allows us to define the vermillion border, brighten lips, & create the appearance of fuller, more plump lips! We work together to choose a color that compliments your skin tone & the style of lip blush you gravitate towards. Shape is designed based on your natural lip shape & facial features! Lip Blushing can be done on natural lips, as well as lips with injections & lip flips.
Scalp micropigmentation consists of tattooing hair follicles into areas where your natural hair growth is depleting. This can correct scarring, fading hair lines, and bald patches! Scalp Micropigmentation is a treatment that is growing like crazy in popularity and many men and women are opting to have done to replenish a bit of their youthful appearance! 
Fighting breast cancer comes with so many stages; the surgeries and chemo sessions, having your breasts removed, potentially having to wear spacers, going through the process of getting implants. This results in scars and potentially no longer having nipples. 
Cosmetic tattooing for nipple reconstruction is a very simple process, and a process that I love helping clients through! Please reach out today to discuss how we can work together to complete your breast reconstruction! 
Cosmetically tattooed contour allows you to wake-up and not have to apply any makeup! We use the same process for tattooing contour as you would by contouring your face using makeup application; we darken in the areas we went to define and highlight the areas that pop to enhance your features!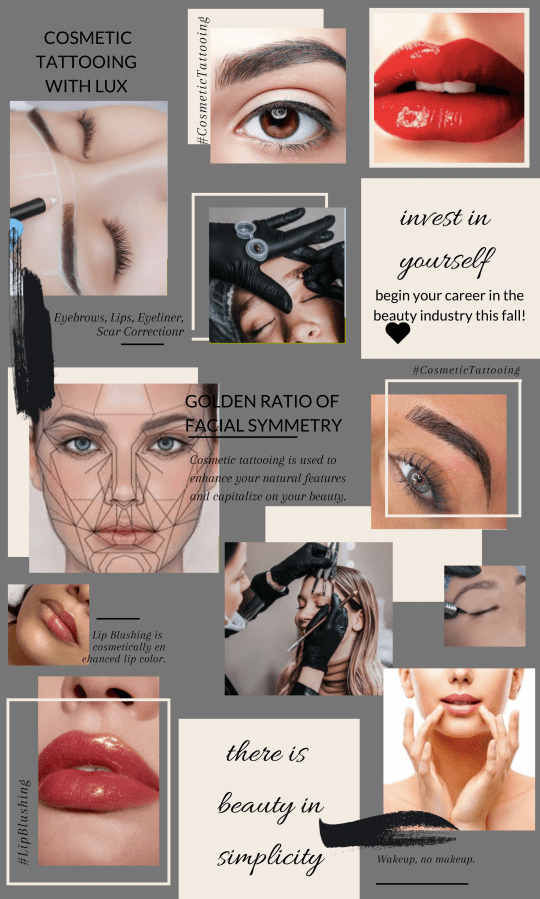 Reach out to Lux to discuss your individual skin issues, skin health, and your skin goals!
We use a medical grade numbing cream, so the process is as comfortable as possible! Pain tolerance varies by client and by area, but generally, the process is minimal pain with maximum results! 
How long does it take to heal?
Healing takes on average 4 weeks for full healed ink, with a couple days of tender lips, followed by a week of dry lips. During healing, you'll want to avoid exfoliation, sun exposure, and getting the area overly moist. You will be sent home with an aftercare kit and instructions. We also go over healing in depth during your treatment!
This depends on your pain tolerance. We do use a topical numbing prior to the tattoo. Generally speaking, the tattooing process itself lasts on average at most 40 minutes. This is a procedure that is uncomfortable, but we use various numbing techniques to ensure that the process is as tolerable as possible, and well worth the results!
Are there multiple colors to choose from?
Yes!!! Lux has dozens of color combinations to choose from. 
Does the ink heal true to the color we choose?
Healed results are almost identical to the true color in the bottle. Ink turns deeper immediately after treatment due to the act of tattooing; we stir up the blood vessels & irritation while tattooing. 
I'm stuck between two colors, which should we go with?
I always suggest starting lighter. Remember, we can always go darker/ brighter at your touchup!
Have another question? Ask away!