PLASMA FIBROBLAST SPECIALIST IN INDIANAPOLIS
Plasma Fibroblast targets the skin's fibroblasts, which offer support to the body's elastin and collagen production and play a key role in our body's hydration.
The concept behind Plasma Fibroblast is similar to microneedling, as we are retraining your skin to look and act younger. Plasma Fibroblast is a more aggressive treatment and requires more downtime. Plasma Fibroblast results in a pattern of carbon crusts on the skin's surface and you must refrain from wearing makeup until these crusts disappear.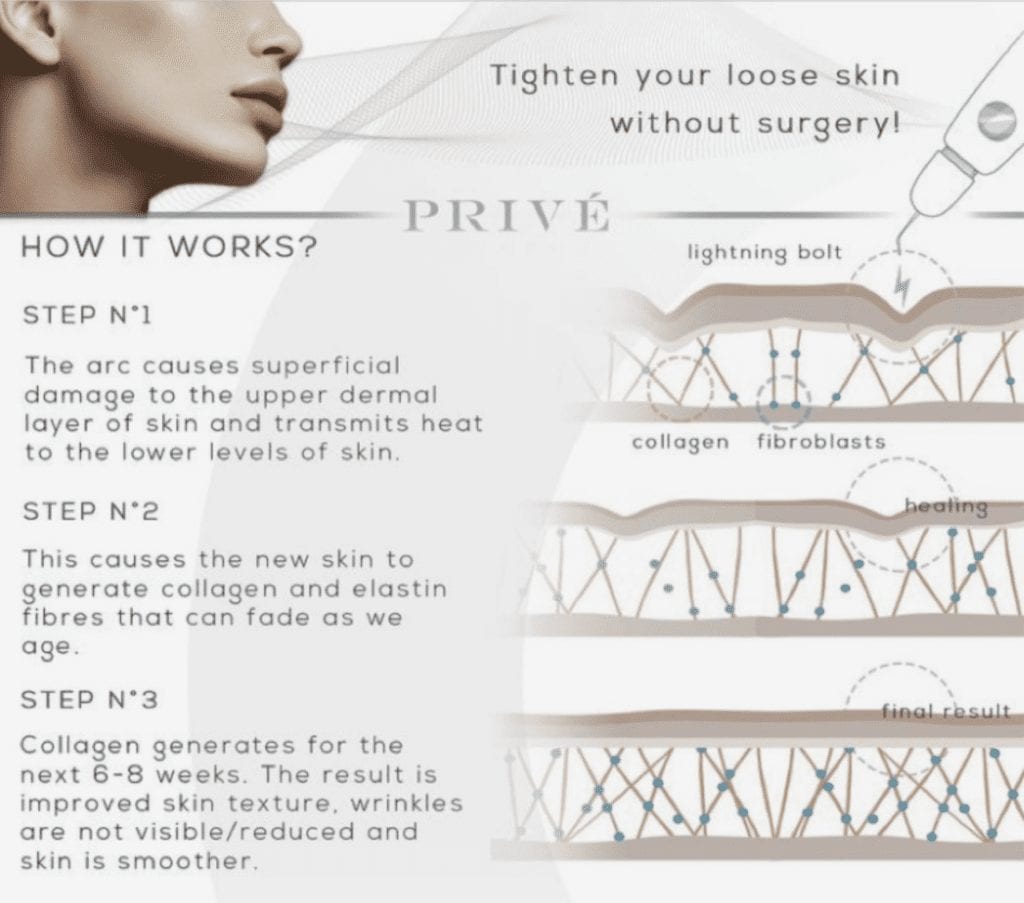 What is Plasma Fibroblast?
Plasma Fibroblast is a non-surgical skin-lift. We are able to target areas that have decreased in elasticity with age. This treatment is ideal for eyelid lifts, crows-feet, forehead wrinkles, jowls, lip lifts, belly button lifts, and stretch marks. 
Let's see if a Plasma Fibroblast regiment is right for you!
HOW PLASMA FIBROBLAST HELPS
What can plasma fibroblast target?
Plasma Fibroblast targets areas of skin that needs tightened.
PLASMA FIBROBLAST AFTERCARE
Spray #1: Dexpanthenol Solution – Moisturizes and protects the skin.

Instructions: Gently mist area 3-4 times a day for the first 24 hours after the treatment. This solution can be used as needed throughout the healing process. DO NOT get treated area wet for 24 hours.
#2: Dexpanthenol Cream – Soothes, nourishes, and protects skin from harmful effects of the environment.
Instructions: Apply a thin layer on carbon crusts (scabs) twice a day until scabs have subsided. Do not wear makeup until scabs are gone. 
#3: Zinc Cream – Reflects harmful radiation of UV rays.

Instructions: Apply a thin layer 1-2 times a day to the treated area. Do not expose treated area to direct sunlight for 6-8 weeks after procedure.
Reach out to Lux to discuss your individual skin issues, skin health, and your skin goals!
What should I expect post Plasma Fibroblast?
Immediately after treatment you will be red, slightly swollen, and tender. This feels like a sunburn with the heat sensation. You can also experience a tingling sensation, as well as itching.
Each individual electrical arc results in carbon crust. These are the small, dark polka dots that you see in the post treatment images. The healing process can take up to a full 7-9 days; this varies depending on the area treated and how quickly your skin heals. While these carbon crusts are healing, you can NOT wear makeup. Carbon crusts need to be treated similarly to a wound and kept very clean. Due to this, the downtime for Plasma Fibroblast is more excessive.
It is overly important that you allow these crusts to heal and flake off on their own; avoid using exfoliations, washing aggressively, scratching and picking as all of this can result in pigmentation issues and scarring.
Sun exposure following Plasma Fibroblast is very risky. We are generating brand new skin that is very sensitive to UV rays. You must wear a very high SPF if you will be in the sun; a big hat and sunglasses are recommended in addition to an SPF. If you are exposed to UV rays, the chances of hyperpigmentation is very high, meaning the carbon crusts turn into something that looks very similar to darkened sunspots.
The key to successful healing is keeping your skin clean, cool, calm, and dry!
What are the timelines for results?
Your body will need four weeks to completely heal and tighten continues for 4-6 weeks post treatment! 
Numbing is great! The treatment itself does elicits the sensation of pain so it's important to keep the client as comfortable as possible. 
Dry healing also depends on client and the various skin factors involved. Your treatment provider should go over after care in depth with you the day of your treatment.
What should someone look for in a provider?
Before and after photos are important! You want to find a provider with ample experience! 
What makes someone a good candidate?
The ideal candidates for Plasma Fibroblast are:
Clients looking to improve the elasticity of the skin.
Clients with a Fitzpatrick Skin Tone of 4 and below.
Clients who avoid UV exposure.
Clients who will follow aftercare regimens!
 
What facial products should I use post Plasma Fibroblast?
You will be sent home with an after-care packet, including three products to use immediately after treatment. Once those products are gone, you need to use very gentle products while the carbon crusts are still present. Once you have completely healed, feel free to continue your normal skin care routine and don't forget to incorporate a high SPF.
Plasma Fibroblast targets the layer of skin that stimulates collagen and elastin production. The micro-burns during treatment signal that your body has been injured and the collagen and elastin is sent to the site of the injury to heal. However, because these are microinjuries, your body needs very minimal nutrients to heal and benefits for the excess nutrients to tighten and rejuvenate!
Is plasma fibroblast different from microneedling?
Both services involve the same concept of micro-injuries to stimulate collagen and elastin. Fibroblast however, focuses more on intense tightening. Plasma Fibroblast can also treat more localized areas such as the upper and lower eyelids. 
What are instructions for post-care?
You should consult with your provider on post care instructions, as this does differ by client and various factors! 
Have another question? Ask away!